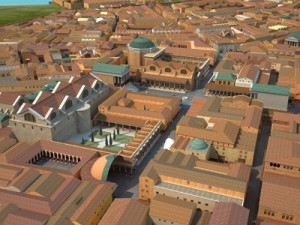 The Ostia Antica Park is one of the largest and most important archaeological sites of ancient Rome. With its fifty hectares, its buildings and its streets, it testifies the development of a large urban and commercial center during the imperial age. Ostia was the most important port of the antiquity, the gate of Rome on the Mediterranean sea.
The most frequent question I had during my several visits of this amazing archaeological site while observing a ruin or a monument was: "What did it look like?".
I have therefore decided to make a Computer Graphic reconstruction of the entire site that reflects my personal vision of this Roman Town and to present this work as a digital guide for iOS and Android devices.