When I finished the first release of Ostia, on 2001, I decided to add some characters because I did find the rendering of the sole buildings pretty uninteresting. In addition, the personnages gave a nice visual feedback about the size of the buildings and monuments. At that time I have spent lot of time to model the clothes around few (and primitive) Poser models and the results was far from being satisfactory. Since then I have tried to find another way to generate my actors and ended up to evaluate solutions like MakeHuman, Daz 3D, etc. Despite my efforts, I could not find anything that was simple and effective to use. Until 2012 this was still an open problem.
Poser 2012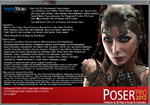 On 2012, Newtek sent to customers a newsletter with a nice offer boundle: upgrade to Lightwave 11 and get Poser 2012 for free. It was what I was waiting for!
Today there are hundreds of sites where you can find high quality goodies for Poser and I have scanned many of them to get or to buy all material concerning greek and roman period.
When I had finally put together a good collection of models, I have decided to start to build the cast for my renderings.
After some issues related mainly to the incompatibility of clothes conceived for the different releases of the Poser models (Victoria II, Victoria III, Michael III, Michael IV, etc) I was finally able to setup several personnages that you can now meet along the streets of my Town.
It is therefore with pleasure that I introduce you the inhabitants of Ostia.
Female Characters
Here the list of the female characters who will populate the town:
| | | | |
| --- | --- | --- | --- |
| | |   | |
|  Calliope |  Claudia |  Clelia |  Diana |
​​
| | | | |
| --- | --- | --- | --- |
| | |   | |
| Ennia | Fabia | Faustina | Flaminia |
​​
| | | | |
| --- | --- | --- | --- |
|   | | |   |
| Flavia | Martia | Octavia | Terentia |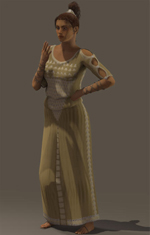 Ulpia
Male Characters

For male characters I could find some specific profession clothes, like the Legionary outfit and the Senator outfit. The Fire-Fighter outfit is based on the Legionary outfit.
​
 
Apuleio
Fire Fighter
Brutus
Centurion
Caius
Citizen
Claudius
Senator
​​​
 
 
 
Darius
Citizen
Domitius
Legionary
Hortensius
Citizen
Lucius
Citizen
​​
Marius
Legionary
Sempronius
Citizen
Titus
Senator
Vinicio
Fire Fighter